I've mentioned my friend Rose here before from time to time for various reasons, usually because she did something awesome or I attempted to thank her for being awesome by knitting or spinning something for her. I always introduce her along the lines of "Rose & I have known each other since around the 8th grade," which at this point means I've known her over half my life. I always start there because I'm pretty sure it's impossible to really capture Rose in words. She is as tough as she is kind. She is quirky and fun and a little shy. She is passionate. She is like an extroverted introvert. She is the person who can spontaneously say "I'll be at X from 3-5pm" and  I'm fairly certain that no matter where X is, friends will always show up to spend time with her. We just all want our chance to be around her.
She and I were close through most of high school & even a brief yet ill-fated stint as roommates in college. I think we are both the kind of people that hang on to friends and time & space doesn't really phase that. She could call me tomorrow and I'm pretty sure we could talk just as we did sitting in her kitchen after pep band eating Ben & Jerry's and Italian bread from the Pick n'Save. That's why when around this time last year she proposed doing a themed gift exchange, I was very excited. The idea was to pick a movie we watched together as kids and to each compile a gift box based around it to exchange around Christmas. We set a price cap, agreed that at least some part of the box had to be handmade, and exchanged a few preferences — like 'I hate pastels' and 'Please don't send me licorice' — and then it was time to select a movie.
After a brief discussion we agreed to base our gift exchange on none other than the cult classic, Romy and Michele's High School Reunion.
We used to watch this movie probably more than was healthy. It's hilarious though and even to this day I can quote it at will and while my husband looks at me like I've finally lost it, I laugh hysterically all the way through the end scene.
I got the movie and watched because I needed a refresher, of course, and some visual cues. I took notes and started formulating a plan. The handmade item was very hard for me to settle on, but I finally found 'it' toward the end of October. By the end of November, I was picking up the last few items at the store and wrapping them up.
I found this blue & pink/red sparkly wrapping paper and on each I pasted a Post-It note with a quote from the movie (for those who haven't seen it, the Post-Its are a reference to the movie, too). My gift box to Rose included these quotes and their respective gifts:
1) "All I've had to eat for the past six days are gummy bears, jelly beans, and candy corns."
I packed gummy bears, jelly beans, and red vines (because candy corns were out of season and while I considered buying them at Halloween and saving them for Christmas I decided that was too gross and went with red vines instead).
2) "A fun frisky use of color."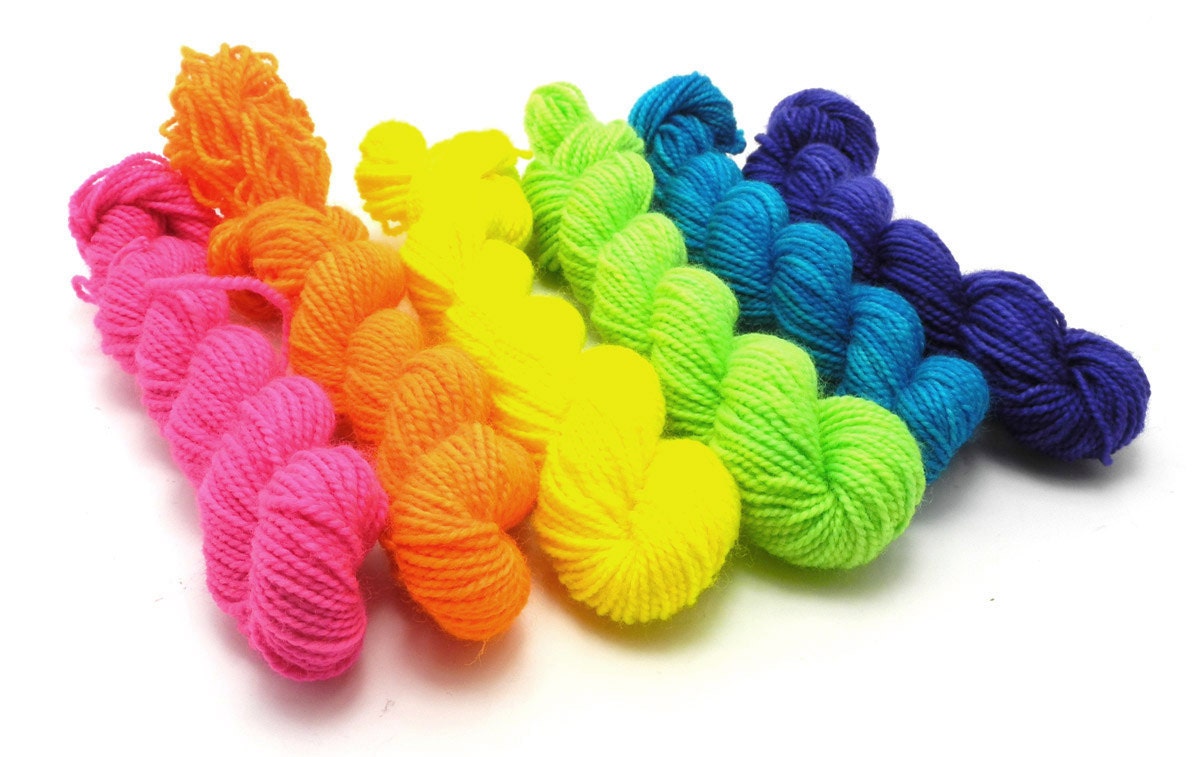 A set of Highlighter Minis from Dyeabolical.
3) "What about making them yellow?"
I wrapped up a package of top-of-the-line classic yellow Post-Its.
4) "Have a Romy & Michele Day!"
This is the handmade item that took some figuring. I know Rose walks and bikes a lot, so I wanted a cowl that was light, but warm enough to keep a chill at bay. With Romy & Michele as the theme, the colors just had to be fun & funky & bright, but at the same time in the realm of colorways that Rose would be happy wearing often. I finally settled on using my skein of Madelinetosh Twist Light Care that I was able to order from Cream City Yarn before they sold out.
And for the pattern, I chose Bristol Ivy's Sallah Cowl (a free pattern on Knitty!).
It was one of those projects that once I got going I knew it was going to be really beautiful. Knit on the bias and finished with i-cord edges, it's stretchy and comfy and just easy to wear. It was just right.
I think Rose likes it, too (she let me share this photo with her modeling — thanks, Rose!).
As for the box Rose sent to me, I'm a little embarrassed to admit that I was horrible, just horrible at photographing & documenting it because I could not stop giggling with glee as I tore it open. Instead of plain quotes, she printed off photos, much like I did that went with each gift. This was what I saw when I first opened it…
(if you haven't seen the movie, just trust me that this is hilarious) and it was at this moment that all interest in documenting went out the window. I was just too excited!
Within the box was the movie Pretty Woman, some cherry gummy candies, & a bag of Cool Ranch Doritos. For the record, those cherry gummy candies were ridiculously delicious — even my husband agreed they may have been the best gift ever.
Although this pretty much tied those gummy candies…
A skein of the pinkest Malabrigo Sock in the Light of Love colorway.
As did these…
These are Fetching mitts in Manos del Uruguay Silk Blend in the Wildflowers colorway. Rose made some mods to the pattern and you can see them on her project page here. We definitely both had a good chuckle because whether or not it's apparent in the photos the mitts and cowl have very, very, very similar colorways. Great minds think alike, I guess!
I have to admit that I repackaged and re-opened my box a few times (and if I forgot something that was inside, Rose, it's not for lack of love — it's entirely due to poor documentation due to extreme happiness). It was just so fun and made me really happy to open it all over again. I asked right away if Rose would be interested in doing an exchange again this year and I'm delighted to report that she is. We'll be exchanging around Labor Day this year to help avoid the holiday rush and our theme this year…
The classic Rom-Com, French Kiss.
I started my research last weekend when I got a copy of the movie from the library…
… and I've got some ideas churning. I can't wait to see where this one takes us!