Around the time I was ordering my fantastic new fiber from Dyeabolical I received a message from Rachel — the awesome lady behind the shop — asking if I'd be interested in trying out a new yarn base she was really excited about. Of course, I jumped at the chance and in with my gorgeous fiber came a couple fab skeins of the new ID Squishy Sport Single in the Sebastian colorway…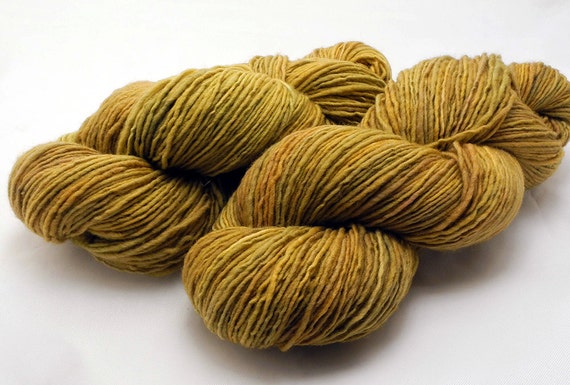 ID Squishy Sport Single is 100% (non-superwash) wool that is grown, processed & dyed in the USA. I have to say that nothing… nothing could have prepared me for the life in this yarn. Before I had it wound into a center pull ball, I had searched a number of possible patterns and when it came time to try them out they just weren't clicking. I just could not have anticipated how much bounce was in this skein! In my eyes and hands, this yarn beckoned to show off its off-the-charts stitch definition. After two attempts at a certain shawl, I recalled a hat that I thought might require a sport or light dk weight yarn. Sure enough, Alana Dakos' Sprig Cloche called for a dk. From my early attempts, I knew ID Squishy Sport Single to be a pretty generous sport/light dk weight can really hold its own in the heavier side of its weight, so I thought it was worth a shot.
This was the 'a-ha' moment in this project.
 You know it, it's that moment when you look down at your needles and you know you've found it.
I knit this beauty in the sunshine while my kids played and I loved every minute. The bounce, the spring, the life, the energy — whatever you want to call it — ID Squishy Sport Single has it in spades and it is sheer joy to knit. It's one of those yarns that when it's in my hands I find myself asking why I ever knit with anything else. It's that kind of high!
The finished hat… well, let me just show you…
Beautiful.
It is quite literally one of the best fitting hats I've made thanks largely in part to that bounce in the ID Squishy Sport Single.
And the unique construction of the hat, I worried about a little is my favorite thing about it. I gave it a generous measurement when working in the inches of the main body just because I knew the yarn wouldn't quite as readily slouch for me as the recommended yarn. The extra couple rounds did the trick perfectly.
And let's look at that pretty leaf detail one last time…
I'm smiling. Are you?
As if the hat wasn't awesome enough, I still had almost half of the hefty 270yard skein left. I couldn't let that go to the land of leftovers, so I popped into my patterns and pulled out a favorite, Churchmouse Yarns & Teas Welted Fingerless Mitts. These little mitts are a brilliantly simple pattern. I've made at least 4 or 5 pairs of them over the years for gifts, not to mention a couple pairs for myself. I worked them two-at-a-time and whipped them up in less than a day.
Et voilà!
I think they're just the absolute perfect companion for the Sprig Cloche. The welted detail echoes the edges of the hat's band and both are just simple & classic.
Perfection.
The best news, however, is that Rachel sent me an extra skein of ID Squishy Sport Single for one of YOU!
It's true! I will be shipping one beautiful skein of ID Squishy Sport in the Sebastian colorway to one lucky winner — whew-hoo!
To enter this giveaway, simply hop on over to the Dyeabolical website and have a nice, relaxing, inspiring look around (it'll be hard, but for the good of your tech try not to drool too much). Then, share in the comments section of this blog post one or two items from the shop that you'd really love to try out. Rachel's just added some new colorways and bases in Yarns & Fibers as well as some really gorgeous new soaps in the Bath & Body section, too. One entry per person, please, but please do feel free to share with your friends.
Entries will be accepted through 11:59CST Monday, April 20th.
The winner will be announced Tuesday, April 21st.
Many thanks to Dyeabolical for making this giveaway possible and best of luck to you!