It all started here.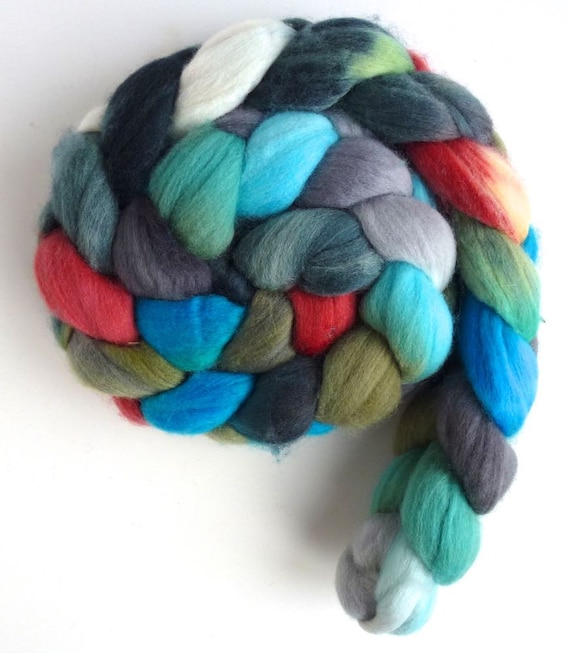 A braid of ramboulliet fiber landed on my doorstep in late December, my January installment of the Top of the Month Club from Three Waters Farm. I had no idea exactly what to do with it, but I ordered an extra braid and then two of the coordinating braids as well. I just had a feeling about it. A couple months passed and somewhere in there I gifted the coordinating braids — a deliciously deep tonal green — to a friend who just got a wheel because I knew she'd love them. I stared at my 8oz of "Birds in the Holly" and wondered what I should do with it.
It was in late March or early April when I was corresponding with a friend who had woven an incredible scarf with the colorway, that I admitted that I kind of didn't know where to start. I loved the colors, but I had no clear vision for it. She essentially said, "You just have to go for it."
So I did. I prepped it into about a zillion little 1-3gram nests…
And I just started spinning.
It was gorgeous, really, every step of the way and the ramboulliet spun like a dream.
Within a couple of weeks I'd finished my singles, all 8oz of them.
And then they sat for about a month until I finally got to plying them.
And you know, like the steps of the process before, I just knew this was special.
The plying took more than a week (which is a long time for me).
And when I finally wound it into a skein, I realized why…
It was over 1100yards!
With so much yardage — I don't think I'd ever done something quite on this scale with my spinning, I knew it just had to be a sweater. BUT, I was just a smidge shy on the yardage I wanted, so I asked around in the Three Waters Farm Ravelry group to see if anyone in the club would be interested in destashing a braid to me.
And someone very graciously did!
I spun up the third 4oz braid during the Tour de Fleece.
And then finally in October, I added it to my 1+1+1 list and found a window to cast-on and it happened.
My first ever handspun sweater was really & truly happening!
Maybe it was the thrill of seeing my handspun knit up so beautifully, or just the excitement of making this project happen, but I took this fingering weight sweater and I knit it in just over a month.
And every stitch, it was just pure love.
I knit the sleeves 2aat — still using the 1100yard original skein, unsure if it would hold out, but just going for it.
And you know what? It held out. Despite the fact that I extended the body to hit at my hip and made long sleeves instead of 3/4 length. When I made it to the cuffs, it was the first time I felt truly confident that I finish this project with enough yarn (even though I bought an extra 2braids of Birds in the Holly along the way just in case).
I used the extra skein for the neckband which I made the full & generous 3.5″ called for in the pattern.
Are you ready to see the final result?
Maybe?
I suppose I can also add that I made the neckband in garter instead of stockinette stitch so it would lay flat instead of curl.
And for all my bound-off edges I used Jeny's Surprisingly Stretchy Bind-Off. I'm mildly concerned it'll stretch too much, but I'd honestly have it too stretchy than not stretchy enough. I love the way the edges turned out.
Who am I kidding? I love the way the entire sweater turned out.
I honestly cannot believe that this started as fiber in my hands. It seems a little impossible.
And yet here it is…
With a proper fit and everything.
It was a labor of love from the first spin of my wheel to the last bound off stitch. And honestly, friends, I have no more words for this one.
❤