There's been a whole lot of 'doing' and not a lot of writing this week and, you know, while it feels really strange as the words pile up in my head it's been very good on the productivity front. Today, I thought I'd go kind of casual here in sharing what's been going on behind the scenes and share some photos and random happenings in list form.
1.Our family went on a really lovely hike on one of our favorite local trails.
We like to go here this time of year because if we time it just right we see loads of Bobolinks which I love. It's also the last trail Mr. Knitting Sarah & I hiked before the birth of our oldest, who turns 11 next week.
2. While on this hike, we discovered that for the 12 years we've been coming to this trail my husband has been pointing out the call of Grasshopper Sparrows to me and I've been hearing just "grasshoppers." It suddenly made a lot sense why I wasn't as impressed as I probably could have been all these years when my hubby mentioned them.
3. Over the past month we've been doing a massive decluttering/deep clean of our house. It's meant a couple hours almost every day of cleaning, many trips to Goodwill to make donations, and some tough choices, but it's been a full family effort and that effort is really, really, really paying off. Our tiny house is feeling much bigger and easier to manage. I'd show you before and after photos, but we actually haven't stopped to document any of it. We've all just been in true nose to the grindstone mode and you'll have to take my word for that.
4. Part of my end of this decluttering effort has been an on-going yarn destash on Ravelry. The yarn is all very lovely and I'm sure I'd eventually get to it, but it's just time for me to reclaim some space and send some of the yarn to new homes. Please feel free to check out the destash page — as of today it contains a wide range of commercial yarns as well as a few of my select handspun yarns.
5. I've been doing a lot of plying.
This photo shows a skein that's now finished and I'm finally on my last plying job for the Akerworks Flat Pack Lazy Kate Test. The test officially concluded just after I started the last bit of plying, so I timed it pretty well. I'll tell you more about my experience with this awesome Kate soon, but for now you can check them out on the Akerworks website as they are now officially up for sale.
6. I helped launch the sign-ups for Team Three Waters Farm for the Tour de Fleece.
As you probably remember, I'm a little bananas for the Tour de Fleece so this is pretty exciting for me. It'll soon be time to start picking my spins for this year and setting some goals. The shop currently is taking pre-orders for the Official 2016 Tour de Fleece colorway, Summer Jubilee…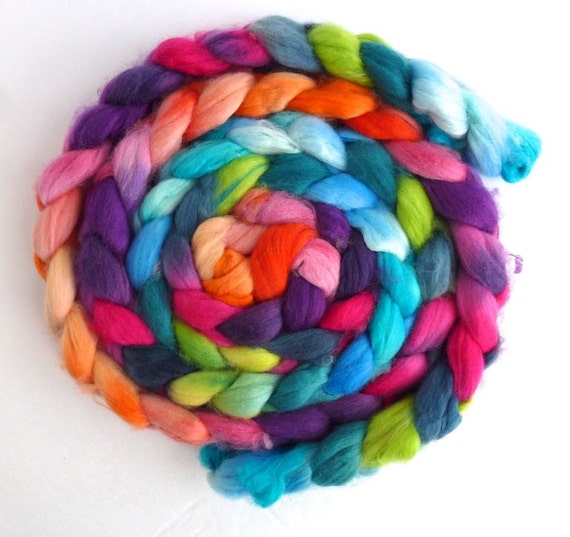 It's not a requirement to participate on the team, but it is available on 3 different bases and, really, isn't it fantastic?! If you're a spinner and have some Three Waters Farm fiber in your stash (or feel like picking some up — the shop is always full of glorious temptation), I hope you'll join us!
7.  I did some poolside knitting while the kiddos did some serious swimming.
Generally speaking, I swim laps for a certain amount of time and then I earn my knitting/watching the kiddos time. It's a good deal all around.
8. I've been using this Andean Plying Tool I picked up from Karen of Gift of Grace Handspun.
I love using an Andean Plying Bracelet to use every last bit of my singles yarn, but I always wound it too tight on my hand and, you know, started to cut off circulation to my middle finger (it was not great). I'm still getting the hang of it, but already this tool helps so much!
9. Moose was his usual ridiculous self.
10. After finishing a couple projects, I started something new on my needles.
This is Joji Locatelli's new Broken Wings shawl using Be Sweet Skinny Wool. The combination, in a word, is divine.
I hope your Friday is full of random beauty & awesomeness!