One of the very first artists I can remember learning about was Georgia O'Keefe. A big reason we learned about her as kids was that she was born in my home state of Wisconsin and a woman, but I think she was also popular with my earliest teachers — who were not at all trained in art specifically — because her art was accessible without being too mainstream. As someone who went on to study the history of art, I certainly have a sentimental link to O'Keefe and her work. That's why when one of O'Keefe's paintings was selected as inspiration for one of Three Waters Farms' colorways for the Completely Twisted & Arbitrary Spin-Along I bit. Hook, line, & sinker.
Here is Music, Pink & Blue No. 2 by Georgia O'Keefe…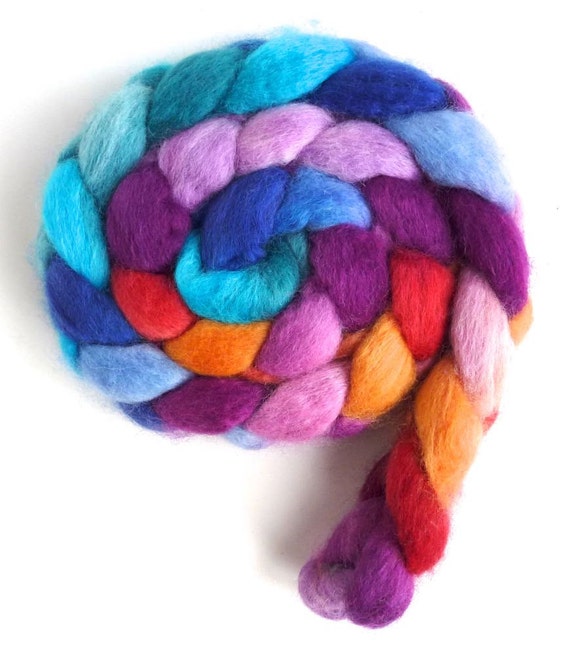 And Color Music by Three Waters Farm.
This was one of those fibers that arrived and went straight onto my wheel.
And I took bobbin shots of it every 2 minutes…
Make that every 1 minute…
OK, OK. Every 30 seconds.
The fiber just glowed.
And the BFL base was insane as it really almost spun itself. I'm constantly amazed by the Three Waters Farm BFL as it is far and away the best I've spun. I joke that Mary Ann from Three Waters Farm must add some sort of magic to it, but in reality she is just an exceptional dyer who uses excellent bases and is a master of her dye process.
When it came time to ply my 8oz of Color Music…
You'd better believe the colors were just as delicious in a simple 2-ply.
And the finished skein…
Yes. Sigh. Wow. Right?!
From my 8oz of fiber I managed to get about 688yards of what I'm estimating to be a heavy fingering or light sport weight yarn. The colors lost none of their depth in their bath and dried into a simply gorgeous, well-balanced skein.
It was the perfect February spin for me, too. Bright, glorious color in the most blah month of the year.
I don't have any immediate plans for this skein. The plain truth is that there is a bit of a traffic jam on my needles at the moment, so I have some time to mull over my knitting patterns for this skein. I'm kind of interested to audition Thea Colman's Apricot Cream for the job though. It's a brand new pattern that I just stumbled upon — quite literally a moment ago — and the yardage and subtle texture I think would be a fantastic combination with this yarn. We shall see though, right? We shall see. Whatever it becomes, I'm sure I'll take photos of my progress every 2 minutes to document the beautiful colors. All right, all right — it'll be every 1 minute. Who am I kidding? It'll be every 30 seconds.