With the Tour de Fleece kicking off tomorrow, I promised to share the tools I've gathered together so that I'm all set to go.
I'll start by pointing out the empty bobbin — of course, it's one of those that I talked about yesterday. Let's just let that represent my wheel, a Lendrum DT, because unfortunately I need to mow the lawn more than I need to set up a pretty picture of my spinning wheel. Contrary to popular belief, I do a lot of things that aren't knitting & spinning and mowing the lawn is one of the more unfortunate things on that to-do list.
Aside from my wheel, I pulled out a couple titles from my bookshelf — Start Spinning by Maggie Casey and The Alden Amos Big Book of Handspinning. In an effort to learn some of the technical terms used in spinning, I'm attempting to read up a bit. I'll also be using Sarah Anderson's The Spinner's Book of Yarn Designs once I get going. Anderson's book is phenomenal for any skill level of spinner and really is an indispensable addition to my library, but it's also an excellent title for a spinner who is past the beginner stage and interested in getting a bit more creative and adventurous in their yarn design.
Next, I grabbed by Ashford Yarn Gauge. This tool lets me measure wraps per inch so I can check consistency or just help judge yarn weight when a skein is done. I really love this gauge perhaps because I found the first one I had — one where you roll the yarn onto a dowel-type thing — really difficult to use. The Ashford tool has been trouble-free and very accurate and I'd highly recommend it to anyone in need.
Of course, I can't make yarn without my trusty marking tags. There are tons are very cute printable yarn tags out there, but a few years ago at a TNNA class these were on the materials list so we could mark our sample skeins. They are super generic & boring, but they are also cheap & easy and I've used them ever since. I mark essential yarn info on the tag when I skein my new yarn and then as soon as the skein is set & dry I pop the tag on. If I decide to give a skein as a gift I make a nicer tag, but for hanging out in my stash these plain tags do the trick.
My first spin? The plan is to kickoff the Tour with this 4oz braid of Cloudlover Targhee in the Ariadne colorway. I love targhee and this is a really pretty red. I'm tentatively thinking a nice fluffy single is the way I want to go. I've been knitting with a handspun single lately and I really love it, so I kind of want to make more. It's worth mentioning that this colorway is currently still available in the Cloudlover shop and don't forget there's a coupon code to help us stock up for the Tour. If you like this fiber, it's a great chance to pick it up!
Well, and then this happened. I really never learned how to spin on a spindle. I tried and was terrible and then I got a wheel and never tried the spindle again. Until yesterday. It's been on my bucket list (I don't really have a bucket list, but you know what I mean) of skills to learn so yesterday morning after breakfast I went downstairs and dug out my Scacht 1.1oz Hi-Lo Drop Spindle and some pretty Wild Hare Fiber Studio fiber that I've had in my stash almost as long as I've owned my wheel and I went at it. To my surprise, it wasn't too bad. I quickly learned that I needed to reverse which hand was doing what. The only instruction I've ever had was from someone who spun with a dominant right hand and when I spin my left hand is dominant. Switching that up helped immediately and immensely!
Mr Knitting Sarah had a bit of heyday laughing at and teasing me because apparently the cross-eyed concentration that using the drop spindle currently requires is hilarious and makes me look super special, but I'm kind of surprised to admit that despite it all I actually really enjoy spindling. I'm definitely not as skilled with it as I am with my wheel, but I see potential. So much so, that I went ahead an ordered another spindle. I like the one I have, but I kind of wanted to see if I could get something that would spin a bit longer (although I think part of that issue is me, now that I've had a bit more practice). More importantly, my daughter really wanted to try and I really didn't want us tripping over each other during the TdF. Spinning together, sure, but not sharing a spindle.
I asked a few questions in the Team Cloudlover 2015 Ravelry thread and got some really helpful advice & recommendations. Originally I was interested in trying something a little lighter, but ultimately I decided instead to try a Turkish spindle of similar weight. The idea that I'd be spinning a yarn ball that was ready-to-go was extremely interesting to me and I thought changing the weight and style might be a lot all at once for me as a beginner. I ordered this one from the highly recommend Snyder Spindles.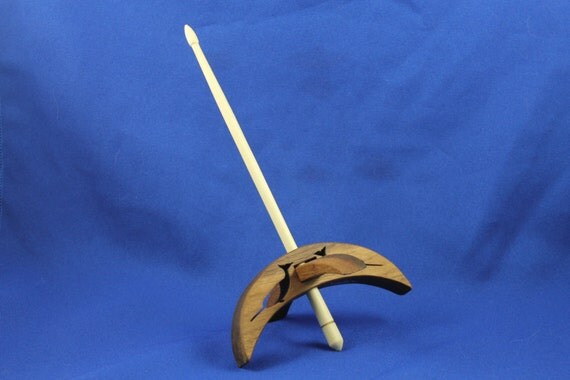 Plus, narwhals! Who doesn't love narwhals?! It doesn't hurt that these are made just about a half hour away from my house — always nice to support local artisans! I really want to try the 0.7oz Indigo Steampunk Top Whorl as they get excellent reviews, but could only budget for one right now. Next time!
In any case, when the narwhals arrive, I plan to try out this mohair…
It may prove to be too tough for me to spin on the spindle, but I'll give it a go and see how I do. I can always save it for the wheel and choose something else for the spindle.
Also not individually photographed in this post is my niddy-noddy. I have a Kromski 72″ niddy-noddy with mahogany finish. I have it because it was the only non-mini-skein niddy-noddy in the shop when I bought my wheel. Seriously. I don't have much to say about it other than it works great and looks way fancier than most of my furniture.
Tools all set, what about goals for the Tour de Fleece 2015?
1) I'd love to get my daughter spinning with me. She's kind of luke warm after day one, but I did some youtube investigations and am hoping to get her going with some better ideas as to how to present spinning to beginners. We shall see as it'll be up to her, of course, but I'll do my part to make it available to her.
2) Spindle a bit everyday. I'm not looking to move mountains with my spindling, but I think a bit everyday will go a long way toward gaining competency.
3) Spin at least 3 stand-alone singles. As I said earlier, I really love the handspun single I've been knitting with recently and would like to make some more.
Is there anything you'd be interested to see me try? I'd like to know! Feel free to leave suggestions in the comments below! No guarantees, but I'm always up for a challenge!
Well, I'm all set to go I think. Ready… Set…