Last week I shared my Bootstrap Socks that I knit in Spun Right Round Superwash Sock.
The colors… they were pretty crazy fun.
I posted a couple photos on Instagram to share the blog post with followers there which led to a short discussion about how amazing Spun Right Round fiber is. Of course, I'd not yet made it to my fiber stash from this awesome shop, but the seed was planted and I simply had to spin up one of the braids of fiber I got for Christmas. After my last spinning project which was a lightweight polwarth + silk, I knew I needed just a light, airy, heavier weight spin for a change of pace. This merino seemed to fit the bill perfectly.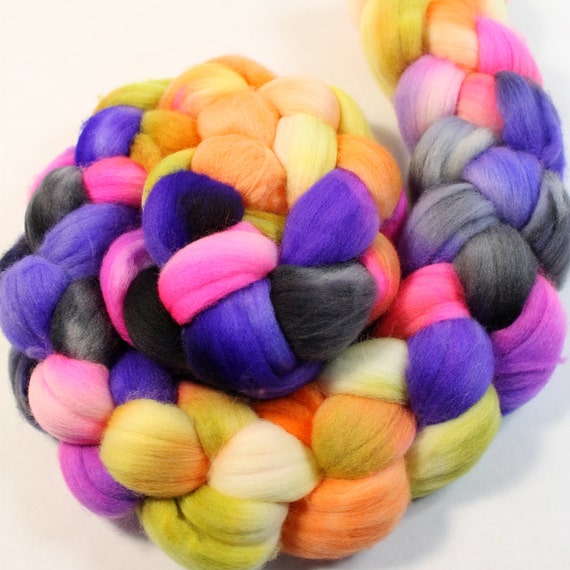 The colorway is called Color Play #47 — like the sock yarn I used in the socks I just knit, this series is made up of one-of-a-kind colorways. It was such a fab mix of colors and it was just beyond squishy. I went for a standard 2-ply and wound up with about 120yards of the squishiest…
Dreamiest…
Brightest…
And most fun aran weight yarn ever spun on my wheel.
As always, I will say that spinning this heavy of a yarn does not come very easily to me. I'm much more comfortable in the silk blends that I can spin into nice and lightweight shawl yarns. This merino, however, was like a dream to spin — I absolutely did not mind that I'm dreadfully slow with it. In fact, I could probably spin myself right into spring if I had enough of this particular fiber. When I saw the merino update notice on the Spun Right Round Instagram feed the other day I half-joked that it should just all be sent to my house. Suffice to say, I feel a serious greed for this fiber — it doesn't even matter what the colorway is. I will spin it.
I haven't yet decided what to do with this yarn. I'm not sure why, but I got to thinking about Susan B Anderson's A Pair and a Spare from last fall. I don't think I'd have enough for a pair from one skein, but I got this idea in my head that it'd be fun just to knit a whole bunch of random bright mittens. I could to spin a whole bunch of this merino roughly the same weight and just knit up a whole truckload of mittens. We are always in need of dry mittens at our house — no matter how many I knit, there are never enough. This is probably because I tend to double-mitten my daughter when she goes to play outside — this not only keeps her hands warmer and dryer for longer, but also means she can easily wear my adult sized mittens without them falling off or fitting too poorly. I don't have enough of this merino (yet) to make this crazy, bright, mismatched mitten dream a reality. At least not for this winter. But perhaps for next…
In any case, I do have at least one more braid of this lovely merino in my stash, but I can't help but drool a bit over this one…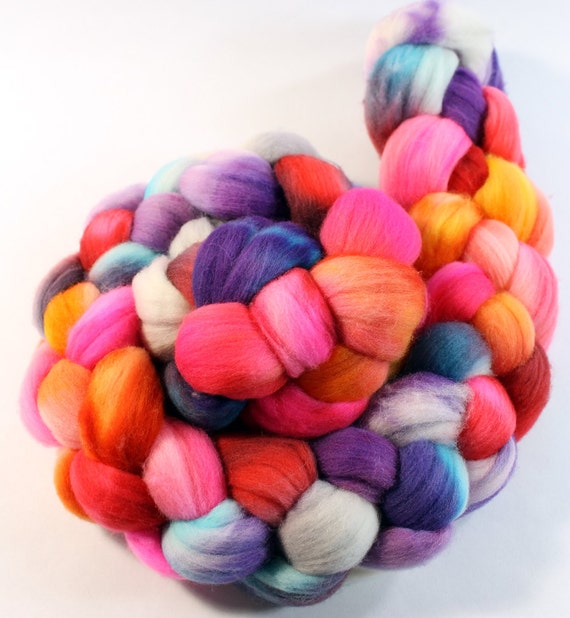 Called Color Play #90
Or this one…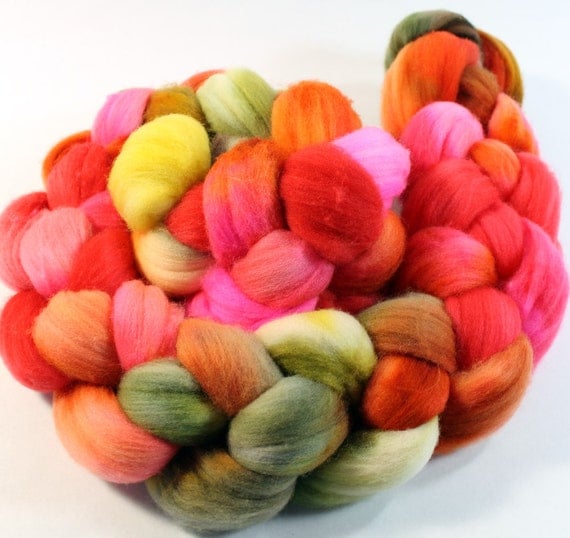 Called Color Play #86
Or…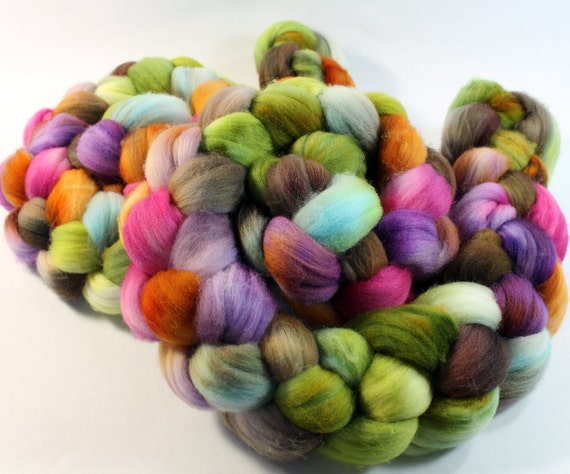 The gorgeous Gigi.
It never hurts to look & dream, right?