We may have had days filled with nothing but clouds and fog here for as long as I can remember (at least recent memory) and it may not look a whole lot like a traditional Wisconsin winter, but my hands know it's winter. I tend to have very dry skin and in the winter I really suffer. My hands become dry and cracked to the point that it can actually make knitting and spinning difficult because my skin is almost too tacky. Because this time of year always finds me in this predicament, I am constantly on the look out for new ways to moisturize. As you can imagine, when Alicia from Sweet Sheep Body Shoppe contacted me asking if I'd like to try out one of her lotion bars I hopped over to her shop to see what her products were all about and then got down to the serious business of picking a scent to try.
Alicia, a knitter, spinner, blogger, designer (all centrally located on her website here) and self-proclaimed 'lotion junky', struck out to make these bars because while she discovered she loved lotion bars, those available to her were all missing something. In her own words, this is what she was looking for:
I wanted the bar to feel softer in my hands, I wanted it to glide on more smoothly, and I wanted control over the intensity of fragrance. Most importantly, I wanted the bars to contain lanolin, the super-moisturizing compound found in sheep's wool (because a knitter can never get enough).
This is what makes the lotion bars from the Sweet Sheep Body Shoppe special — and why I was so excited to try one — they are made with lanolin. Lanolin is produced by sheep to protect their skin & wool from the climate & environment. If you are a spinner and have ever spun with wool that hasn't had the lanolin removed in washing, you know exactly how dramatically soft and incredibly moisturizing it is. It is a little bit like magic!
With Alicia's very keen guidance — a skill she loves to share with customers, I navigated the scents and selected a Frosted Cranberry scented lotion bar. I will say, however, that Turkish Mocha, Kumquat, and even the Unscented Cocoa were definitely in the running! And when my package arrived I tore it open instantly to try it out…
Oh, yes, and I got a Toasted Coconut lip balm, too, which I adore. It has just enough flavor and moisturizes without being sticky. I carry it with me everywhere now! I have to say, the Winter Clementine & Vanilla Mint lip balms are on my list to Santa now, too!
As you can see in the photo, each lotion bar comes in a cute little tin — just perfect to present as a gift or tuck in your own knitting bag (I'd recommend one for each purpose) and the scent is clearly labeled on the back.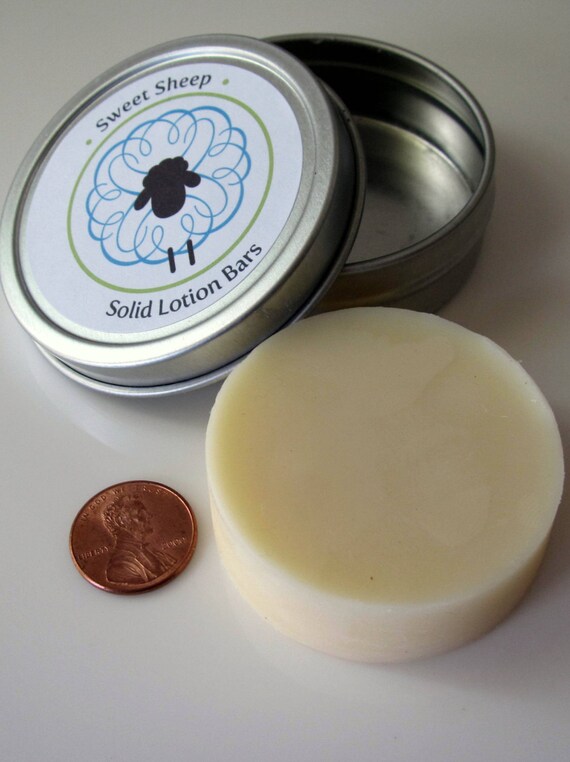 As soon as it was in my hand, I noticed straight-away how soft the lotion bar was. It warmed in my hands in just a few seconds and spread easily over my skin. It spends a bit more time on the skin than other lotion bars, but I didn't find it greasy and comfortably picked my needles up while it was still fresh on my hands. After all, the lanolin on my hands will actually help condition the wool with which I'm knitting! I've kept it on the table next to where I normally knit in the evenings and after a week, I can definitely see a difference in my skin.
As for the scent, I appreciate that it's a bit stronger than the really understated lotion bars, but it isn't overpowering. I have an addiction to all things cranberry that is possibly unmatched the world over so Frosted Cranberry was an easy choice for me, especially this time of year. I love that there is such a wide range of scents available, from standards like Unscented Cocoa and Lavender to the super fun Gingersnap and Jingleberry to the more unique Fresh Snow and Down by the Bay.
Of course, as someone who doesn't always have the easiest time choosing, I am a huge fan of the Gift Sets.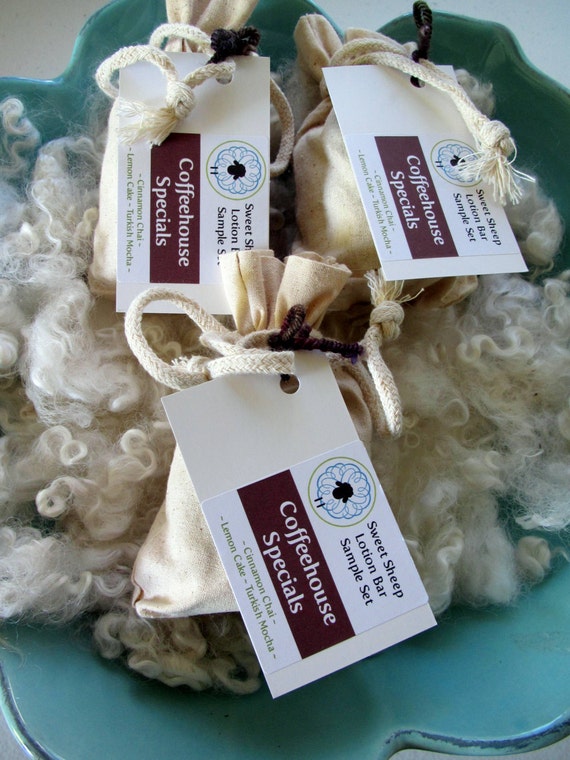 These sets come with 3 sample sized lotion bars, grouped into fun scent families like Coffeehouse Specials, Fall Favorites (which includes a sample of Frosted Cranberry!), and Winter Wonderland. Sometimes the best choice is a little collection to try!
I think it's important to mention that all these items are handmade by Alicia in Rhode Island. As she states in her shop policies, "They contain nothing but skin-softening and nourishing ingredients–no petroleum byproducts, no fillers." You can see from the ingredient list how very committed to keeping it simple she is — something I know I certainly appreciate in body care items!
As a very special treat to readers of this blog, Alicia, has offered to giveaway one lotion bar in the scent of the winner's choice. To enter, simply visit the wonderful Sweet Sheep Body Shop Etsy shop to check out the different scents and then leave a comment on this blog post sharing your favorite. 'Like' the shop's Facebook page here and sign-up for the e-mail newsletter here and you'll get an extra entry in the giveaway for each, just leave a comment to let me know that you did and I will make sure you get the credit when I select a winner. Entries will be accepted through Monday, December 22nd, at 9am CDT.
Alicia is also very generously offering all of you 10% off your order through the month of December! Simply enter the coupon code  FOS10  when you checkout to receive your discount. For orders within the US, ready-made items will be shipping through the 19th and then orders placed between Dec 20th – 28th will ship out by December 29th. If you have questions regarding shipping (because it's that time of year and these would make great gifts!), you can check the shop policies or contact the shop directly via the form in the online shop.
I hope you have as much fun perusing the lotion bars and lip balms as I did and that you treat yourself to a little something special — it is almost Christmas after all and we all deserve a little pampering!