Well, it is officially June and therefore our May Challenge for the Socks with Sarah KAL is officially over. All I can say about the experience is that I have really loved this month. Seeing and hearing how everyone's experience with a little something new was incredibly inspiring and so much fun. The final tally indicated that about half of our KAL group entered into the giveaway which is just excellent — a huge thank you to everyone who participated! Also, a huge thank you to our generous sponsors — those prizes had us all pining and clicking away!
Now, in the interest of just getting to it, this is going to be a long post. I thought about just listing up the winners, but then I realized being able to see your prizes with your name next to or underneath it would be more exciting. Then I considered doing this in installments, but I could not imagine having to wait a week while I slowly post winners — that would feel painfully slow & slow the process of getting the prizes to their new owners. So. We are just going to pull this band-aid off with one huge post.
 Winners are listed by their Ravelry ID in bold after each item. If you are one of the lucky ones, please check in on the SWS May Challenge Winners! thread for instructions as to how to claim your prize.
First up,  Blue Moon Fiber Arts.
Shoqua – winner: pattymatt
Dawop Wallap — winner: Cihtiikn
Rauen — winner: JWYarnGarden
Under the Mistletoe – winner: salpal1
and Strawberry Rhubarb Pie — winner: MamaMadeWaffles.
Caterpillargreen Yarns has contributed one 115gr skein of a colorway of the winner's choice, such as…
Ocean Sunset — winner: dominique69
Cephalopod Yarns has donated two skeins of their Skinny Bugga! yarn in the following colorways…
Green Huntsman — winner: 3pumpkinslittle
and Oleander Nymph – winner: sarahmontie.
Chasing Acorns has contributed two handmade items from their Etsy shop.
One handmade project bag
and a set of handmade stitch markers — winner: gmcfarland.
Cloudlover Yarn and Fiber has contributed two skeins of sock yarn of the winners' choice. 
Winners of 1 skein each: ourcozybungalow & Shinybees
Dyeabolical has contributed three of these…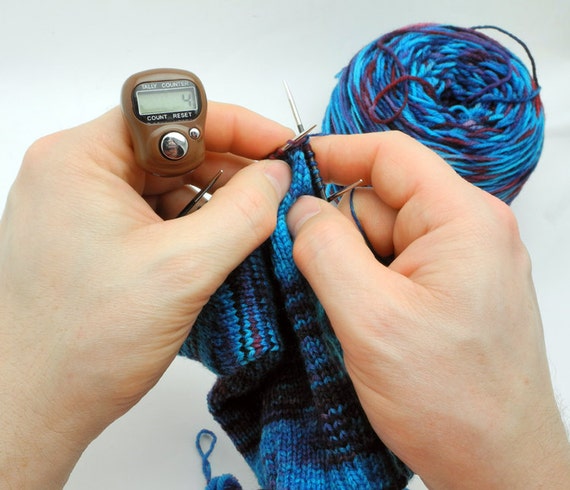 Super handy counters — sewbonloot, wklilly, & clix will each receive 1 counter.
From Eucalan, we have one Gift Pack.
It includes 4 – 100mL bottles, one each of the following scents: eucalyptus, lavender, grapefruit, and natural — winner: RileysWillow
Fairmount Fibers has contributed one skein of Manos del Uruguay Alegria.
Winner — winner: kcollins629

And from Fleece Artist, we have one skein of Kidazzle in the following colorway…
Hibiscus — winner: ladyinstitches
The Golden Skein has contributed the following skeins from their clubs…
a skein of Nurturing Fibres 'Golden Dawn' from the Trial Club — winner: CraftFidget
and a skein of Hedgehog Fibres Stark from Tornado Over London — winner: daniluma
From Great British Yarns, we have four skeins of Knit Picks Stroll.
Two skeins in the Scarlet colorway — winner: franney
and two skeins in the Vintage Multi colorway — winner: Bonnieb1227
And from Green Mountain Spinnery we have one skein of Sock Art.
Winner: kbrtmyr
From Heidi & Lana, we have this set of handmade stitch markers…
They are a size small (fit up to a US8) and in the Blue Sky colorway — winner: PiaThadani
From Honey Bee Fiber Arts we have these honeybee themed accessories…
a notions bag & a matching project bag — winner: SweetBay
From Knitter's Pride we have the following items…
1 pair Small Asta Sock Blockers and
US 3 Dreamz DPNs – 1 pkg — winner of both of these items: mostlymunchies
US 1 Karbonz DPNs – 1 pkg and
US 2 Karbonz DPNs – 1 pkg — winner of both of these sets: barblt99
US 1 16″ Karbonz Fixed Circs – 2 pkg — winner: mjm
1 Bamboo DPN Sock Set — winner: bealily
1 Karbonz DPN Sock Set: sierra2913
Winner of 2 skeins: christykitsch & winner of 3 skeins: snowangel
Miso Crafty Knits has contributed a small box bag…
winner: carsonrach
and a drawstring bag…
winner: twinsknit
Miss Elle Knits has contributed two skeins of sock yarn from her Etsy shop…
Winners of 1 skein each: Sneezie & KeiryBerry.
From Namaste, Inc, we have one set of Oh Snap! bags…
in Caribbean Blue — winner: juded55
And from The Plucky Knitter, we have two skeins of Plucky Feet in the following colorways…
Maneater — winner: cmjanz
and Oatmeal — cryla1009.
Quince & Co has contributed a copy of their eBook,
Sock and yarn of the winner's choice for one of the patterns in the book — winner: monkeychix.
Sheepish Yarn Company has contributed 1 skein of BFL Sock…
winner: Daylight4361.
Stitched by JessaLu has offered one $25 gift certificate towards a bag $25 or more in the shop…
Winner: jcampo
And String Theory Colorworks has donated one skein of yarn in any base…
Winner: mysparklyshoes
From Sweet Georgia Yarns, we have one skein of BFL Sock
in the Sitka colorway — winner: ModelWidow
From Sundara Yarn, we have…
one $35 gift certificate to be used in their online shop — winner: RainyDayStitches
Tanis Fiber Arts has contributed one skein of Blue Label Fingering Weight in the brand new colorway….
Tartan — winner: billbomas
And last, but certainly not least, from Yarn & Pointy Sticks we have 2 copies of the eBook
Winners of one eBook each: sewsable & snooptigger.
And that's all, folks!
Congratulations to all the winners!  For those who didn't win this time around, please rest assured that there are more promotions & giveaways scheduled throughout the remainder of the Socks with Sarah KAL, so don't be discouraged. In fact, we've got a very special one coming up once the dust settles a bit from this giveaway so stay tuned!